Three years ago, I wrote about the Mother Bear Project and showed you my first bear.
You know where all my good intentions are?  Oh yes, still sitting in my craft room.  I don't know why I didn't mail that first bear.  I just didn't.
A year and a half ago, I started another bear.  Guess where that one is?  Yep, still here.  At least I'm consistent.
Well, after I declared this to be the Year of Finished Projects, I found that second bear and embroidered her face.  It didn't take too long, even with Pipsqueak hanging on my arm.  I took her picture for posterity and she and her buddy are going in the mail.  Hopefully it won't be too long before they each off to bring a little love to a child affected by HIV/AIDS.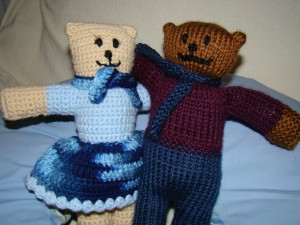 Print Friendly
More Mac and Cheese, please!