…who won't sleep.
My dearest, sweetest Pipsqueak,
Mommy and Daddy love you so very much.  Your chubby cheeks, your happy smile, the way you yell "Daddy!" when you hear the garage door opening.  We love to hold you, play ball with you, help you pet the "meows".
But you know what we don't love?  The way you won't sleep at night.
Really, dude, what's the deal? We've been through many a baby.  Some slept better than others.  But you, my little friend are a Bad Sleeper.  And we're old now.  We need our rest.  Do you see the gray hairs on my head?  They are from lack of sleep.  Really.
What do you think you are missing at night?  I'll tell you what – SLEEP!  Look over at us.  We're sleeping.  Boo and Pumpkin and Bip…all sleeping.  Even the cats.  Are sleeping, is what they are.
You have a warm, cozy bed.  You have people who love you.  Your belly is full and your diaper is dry.  Just sleep.  Please.  For the love of all that is good and right in the world, please sleep.
Love,
Your mom and dad, who haven't had a good night's sleep in 1 year, 5 months and 24 days.  Not that we're counting.
P.S.  Here's a picture of you doing that sleep thing once.  See how cute you look?  I'd love to see that again.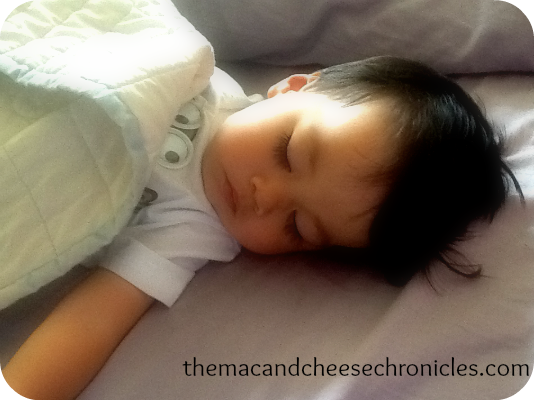 Print Friendly
More Mac and Cheese, please!