I had a birthday last weekend, as I do this time of year. And because I'm so special, Monday was a holiday, too. You're welcome.
I bought myself a cake from the local Danish bakery. I think they're Danish. They have some long name with lots of letters and a pronunciation that has little to do with all those letters. Normally that would have annoyed me – buying my own cake, not trying to pronounce the name – but I am trying to grow in this area. I've probably reached the halfway point in my life, so I'm just going to buy whatever cake I want and get over myself.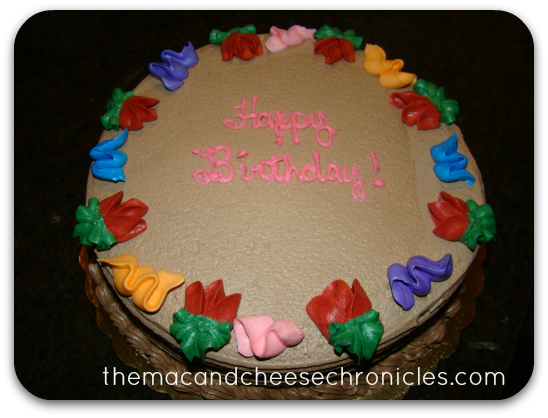 With some well placed, if not subtle, hints and an Amazon wish list, I received some very nice gifts from my family. My kids replaced the cookbook they carelessly and unknowingly got computer ink all over. How did they do this? I know not. But now I have a new one, so it's all good. A friend left some See's lollipops on my front door.  How did she know these were a staple of my childhood? Hubby bought me the 25th anniversary Phantom of the Opera production DVD. It's fabulous! Have you seen it? If not, go right this moment and put it in your Netflix queue. You can stream it tonight! I've totally hooked Pumpkin Girl on it. Now when I break into song, she's likely to join me. "I gave you my music, made your song take wing…"
Oh, and Philip brought me roses, too!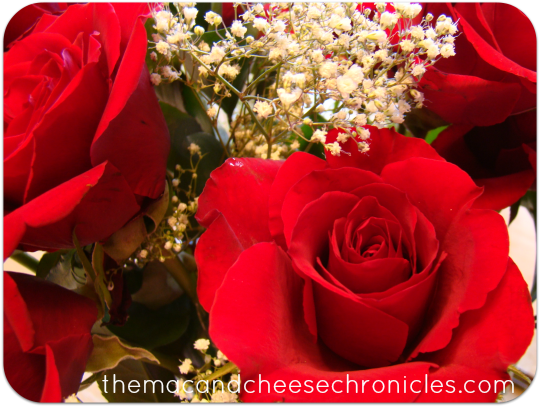 Then Red Robin (the restaurant) totally tried to ruin my day. We decided to go there for dinner. They gave us a 10-15 minute wait time. We probably only go there once a year and they are always busy, but we never have to wait all that long. This time, however, we waited 35 minutes to be seated. They kept telling us we were next for a big table. I was super annoyed, but willing to give them a chance, but I was standing up and getting ready to leave when I could hear they were getting ready to call us. So we got to our table and placed an order for appetizers and drinks. Another group was seated next to us shortly after we were seated and they placed their order, too. Fifteen minutes later, we had no drinks and no food and had not placed our main order. Then the table next to us got their appetizers, which happened to be the same one we ordered. That was the final straw. We ended up walking out before anything came to our table. By this time it was nearly 7 PM, we were all very hungry and I was pretty angry.
We salvaged our evening with food from Sonic (great service there!), lots of laughter and my chocolate raspberry cake.

Print Friendly
More Mac and Cheese, please!