This is the project that had me searching high and low for a particular skein of yarn and in the process realizing I have major stash issues. Yarn stash, people, yarn.
I bought this yarn about 6 or 7 years ago and starting making a scarf. But I didn't like the way it was turning out, so I frogged the whole thing and put the yarn away. I really liked the yarn so I wanted the perfect project. For some reason I thought I only had one skein and there aren't a whole lot of things you can do with 175 yards of sock yarn.
So I searched and searched for the perfect pattern and then I found it! Eureka! It's the Dayflower Cowl for sock weight yarn. And here was the best part – the way the pattern is written, you can make it longer or shorter or taller, however you want. So my plan was to make into a sort of long, skinny infinity scarf.
And off to find the yarn. When it finally emerged from the depths of The Stash (yarn!!), turns out I actually had 2 skeins. Yay, me!
Now, before I show you my cowl, I have to admit that I made a mistake. I knit fairly loosely, so I always, no matter what, go down a needle size. Even when gauge doesn't matter, I just go down a size. I should have used a US7, but my 7s are in another project and my 8s are my favorite needle. My 8s are a very nice, slippery Inox circular. And thinking gauge doesn't matter, I jumped at the chance to use them.
So I ran out of yarn. Yeah, oops. And this being lace, there was no way I was tinking back 4 rows of over 200 stitches, making sure to catch every yarn over and K3tog. I found leftover sock yarn that matched one of colors in the cowl. I finished off the last row and a half, plus the binding.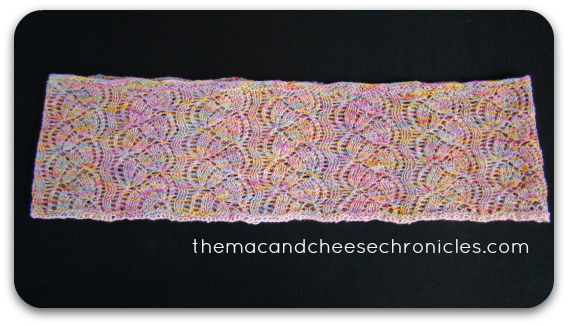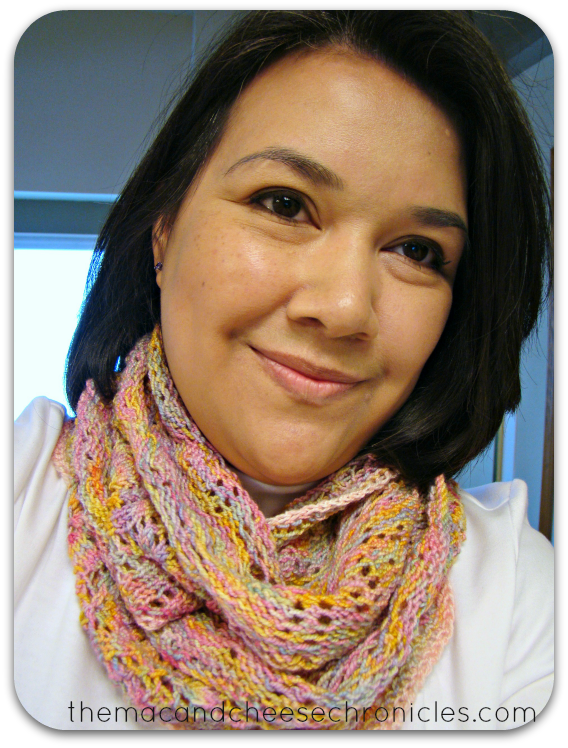 So here she is, I call her Springtime in the Rockies, because the colors remind me all the flowers in bloom once Spring finally makes an appearance. The yarn that started this all is Koigu Painter's Palette Premium Merino, in color way P207. The pattern, Dayflower, is free and is both written and charted. (It is the 5th pattern down on that link.) It comes in 3 lengths. I doubled the smallest length and did 4 pattern repeats. Finished size is just under 29 inches long and 8 inches high.

Print Friendly
More Mac and Cheese, please!