I have a new crafting buddy – Bip!  Last summer I found some crafting kits and I offered them to the kids.  Bip jumped on them and we had a ton of fun together with them.  They were these sand art kits that where you peel off the protective covering to reveal sticker paper, then you pour colored sand over it and when you're done, you have a fun little picture.
As a side note, we did these on the day we evacuated from the fire.  We had to move quickly to pack the car and make hard to decisions about what to take with us and what to leave behind and potentially lose.  Those little art projects stayed on the kitchen table where they had been waiting so we could show Philip when we got home.  My heart ached, remembering the special time Bip and I'd had together, that last afternoon of peace and safety.
Anyway…that afternoon when I realized how much Bip likes crafting with me, I made myself a promise to find more things for him and I to do together.  Best laid plans and all, it has taken until now to get around to it.  He had a Cub Scout project to make a gift and with his dad's help, he decided to make a Super Mario pencil holder for his buddy who is moving away.  Phil borrowed my idea for the decoupaged candle  and with some input from me, this is what they came up with. BTW, that last link goes to an article I wrote for The Homeschool Classroom blog.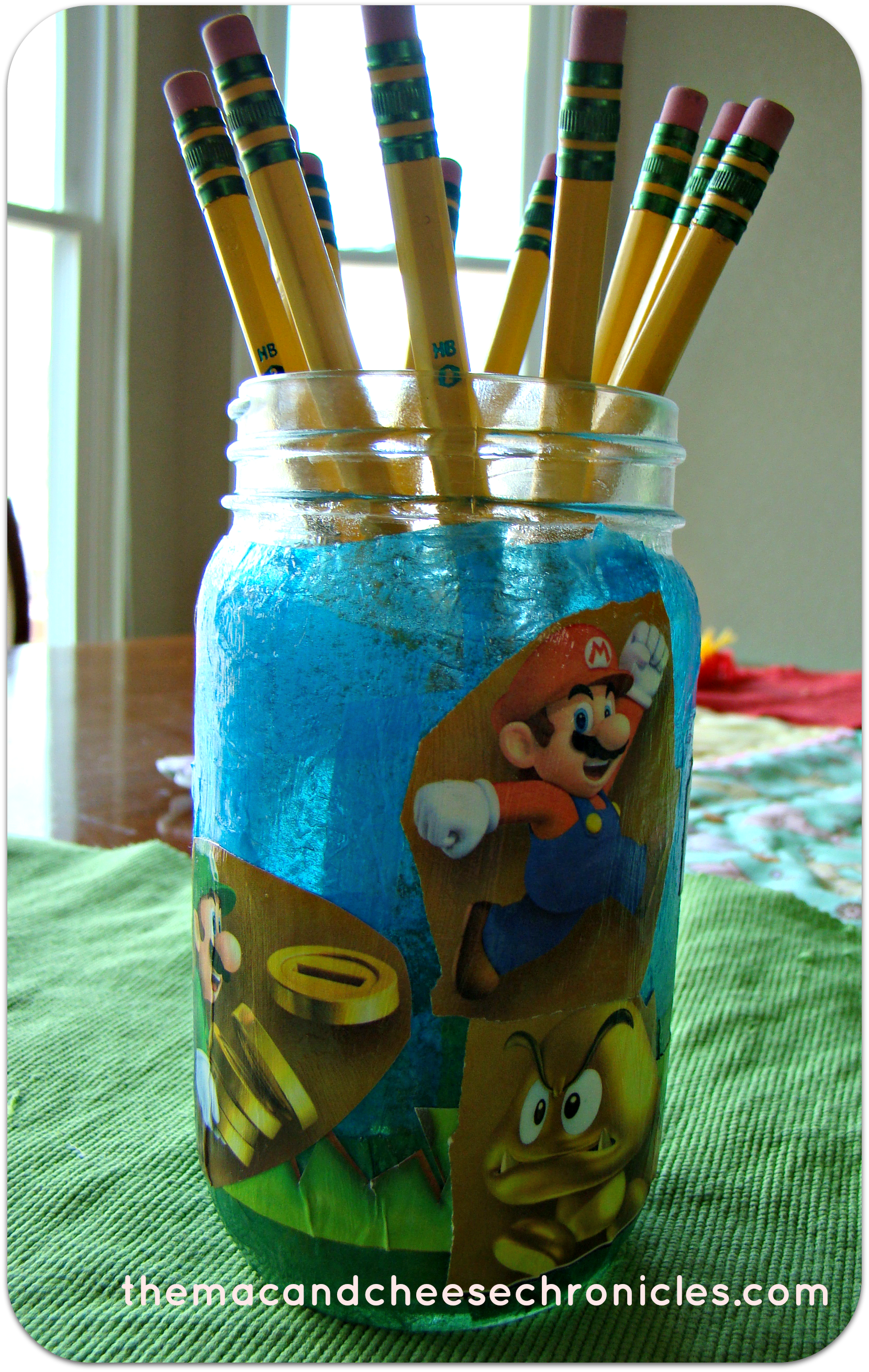 Bip's original idea was to use Super Mario stickers he had in his stash, but he couldn't find them.  But he remembered a magazine with some great Mario pictures, so he cut them out and used them.  My idea was to use tissue paper on the glass jar in order to ground the pictures and make them more visible.  Phil and Bip decided to use green for grass and blue for the sky.  They did that together with Mod Podge and sponge brushes, then let it dry overnight.  The next day, Bip and I decoupaged the pictures onto the tissue paper background and let it dry.
I really like how this turned out!  I especially like that most of it was Bip's own idea and that we only needed to provide a little guidance.  He's very happy with it, we all had fun putting it together and I think his Mario-loving friend is going to like it, too!