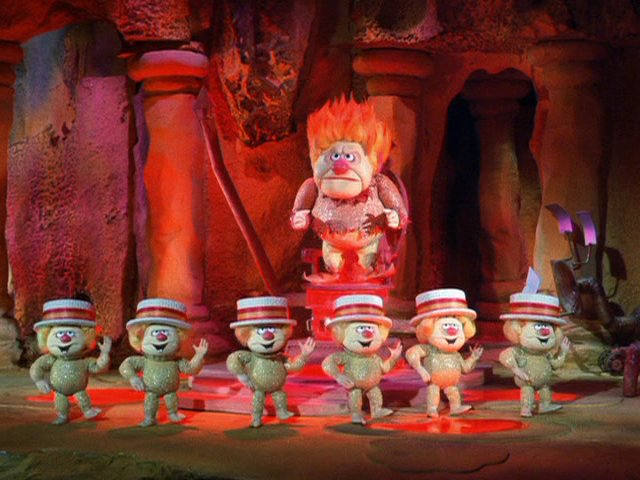 It's summer.  Blech.  I've said it many times before, but I am not a summer person.  Too hot, too sweaty, not enough air conditioning.  Shorts make my knees look chubby.  It's like I've got Heat Miser and his minions dancing around my house. And apparently, my state now has a tendency to burst into flames.
But I will make the best of it.  I have decided to be Efficient this summer!  I am going to Get Things Done!  I have…A Plan, and it's a good one.
Mainly it is sitting on the back deck, drinking iced tea and hanging out on Facebook.
Ok, not really.  Summer of Sloth II is Boo's plan, which I delight in thwarting daily. My Efficient Summer Plan involves having one focus area for each week of summer.  Like so…
Week 1. Basement, Round 1
Week 2.Work on the blog (have you noticed?), work on projects with Bip
Week 3 Refine the housekeeping schedule, such as chore assignments. Pumpkin Girl projects
Week 4 Basement, Round 2, Work on projects with Bip
Week 5. Home Ec with the kids
Week 7. Prep for coming school year, Pumpkin Girl Projects, prep for upcoming cruise
Week 6.  Craft Room, Projects with Bip
Week 8.  Home Ec with Kids.
I'm on week 3 now.  I'm sure my minions are extra thrilled with this one!  Too bad, we wouldn't want them living the Life of Riley now, would we?  Or having me talk to the walls?
So basically, I'm getting to all the need-tos and should-haves that have been building up, along with tackling some projects that I've promised to do with or for Pumpkin Girl and Bip.  Also, they decided they wanted to learn to cook and bake.  Or I decided, I can't remember which.  And that pretty much takes up the summer.  I might have one more week in there, depending on when Pumpkin's dance studio starts their Fall schedule.
How about you?  Anything as thrilling as I have planned?

Print Friendly
More Mac and Cheese, please!