It's the time of year where I go in search of the perfect planner. I feel like Lancelot searching for the Holy Grail – I know it's out there, I just can't find it. I'm a fan of the academic year calendars so I can write in an entire school year's worth of activities at once. Those calendars and planners come out in July or August, so it is time to mount up and seek glory, er, go shopping.
My favorite format so far has been Amy Knapp's Family Organizer. It has one week at a time on the right side of the planner, with a to-do list on the left hand side. Each day has enough space to write what I need and I love keeping a running to-do list on the other side. This is by far my most favorite ever layout. It has a spiral binding so it lays flat. Honestly, without some sort of lay flat binding, I won't even look at a planner.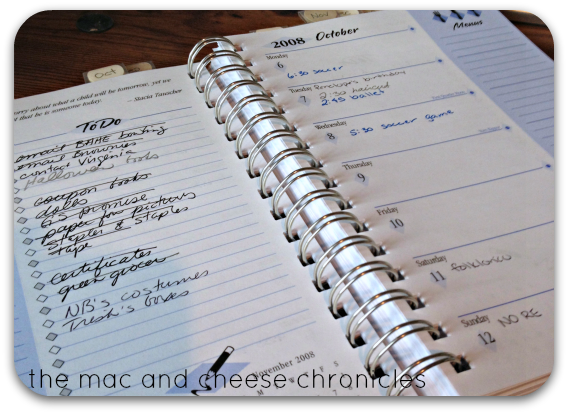 The problem with the Family organizer is…well, it's kind of plain. I'm all for a clean, uncluttered look, but this one needs some oomph. So I went in search of something pretty. And pink. Pumpkin Girl says pink is my signature color.
I didn't find pink, but I did find Sandra Boynton's Mom's Family Desk Planner . (Link goes to Amazon.com, but I don't get compensated at all.) The right side has the week's calendar, the left side has a full color Sandra Boynton cartoon. It really doesn't get more fun than that. I wanted to fall in love, but I could only get as far as "really like." Even though the included stickers are the cutest ones out there, I missed the to-do list every week. I wish Sandra Boynton would sell the calendar stickers separately and more of them. The set with the calendar only came with 5 "dance class" stickers. Really? Who only takes 5 dance classes? Pumpkin Girl takes 5 classes a week.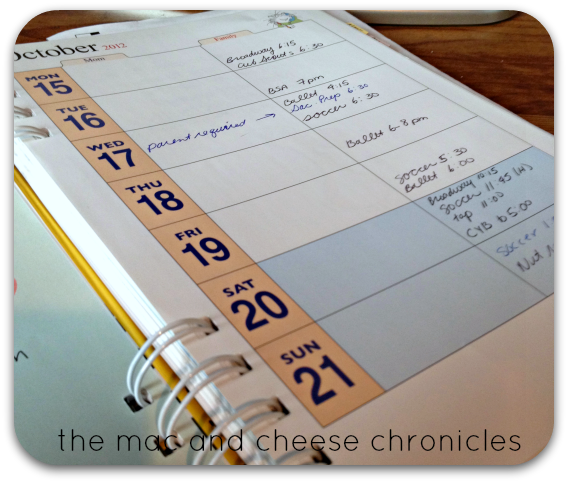 If only I could get the cute and fun design Sandra Boynton's planner with the functional layout of Amy Knapp's organizer, my quest would be complete and I could die happy.
I have scoured the Internet looking for my perfect planner. Only Moleskine has the week plus to-do list layout that I like. But not spiral bound and sort of plain. Lots of pretty planner pages are available to purchase and download on etsy, but none had the layout I wanted.
What's a girl do to? I'll show you next time. Until then, do you have a favorite planner or calendar?

Print Friendly
More Mac and Cheese, please!