After trying a couple of different planners over the years and wasting time doing extensive research on the Internet, I came to one conclusion. I need to create my own. Actually, in doing my research, I found several people who made their own planners. I guess planners are highly personal.
I was particularly inspired by how Jennifer at I Heart Organizing created her own planner pages. I like that they are colorful but clean. But still not with the week plus to-do list layout I wanted.
So I created my own pages. Clean, colorful, fun, pre-dated. One week on one side, matching To-Do list on the other. A Martha Stewart Discbound notebook as the cover.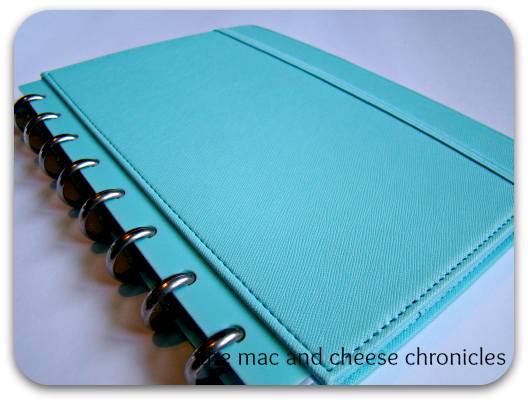 I really love this cover.  The blue is soothing and pretty, but the silver discs really make it sing.  I would have liked to have found it in pink (Hello, Martha- are you listening?), but this one is nice, too.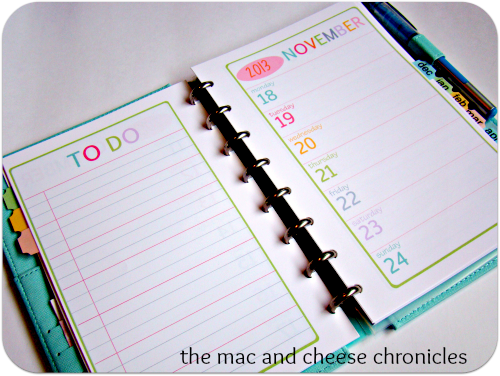 I  love, love, love how this turned out! Lots of space to write.  Bright and cheerful.  A To Do list.  What more could a girl want?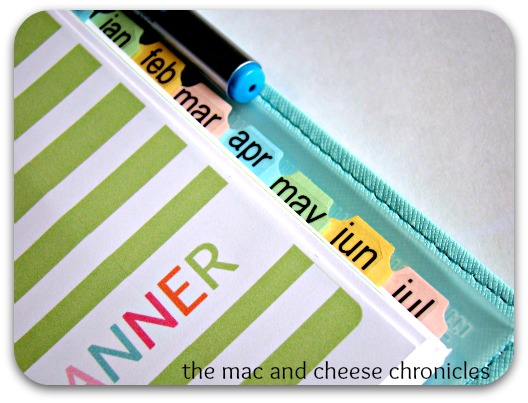 I used Martha Stewart tabs and my label maker here.  I can't find the tabs anywhere anymore, I just happened to have used them on last year's planner.  I actually couldn't even find them in my house, either, until the day I took this picture. They are made from a sturdy card stock and the adhesive part is strong, too.  Martha? Yeah, you need to bring these back. (As if Martha reads my blog!)
True confessions time.  I totally copied the title page from Jennifer at I Heart Organizing.  I just really liked it and my inner graphic designer took over and I couldn't help it.  On the other side is my "if found, please contact…" page. In the little pockets in the front cover I tucked our family cards and our Pumpkin Girl Designs business cards.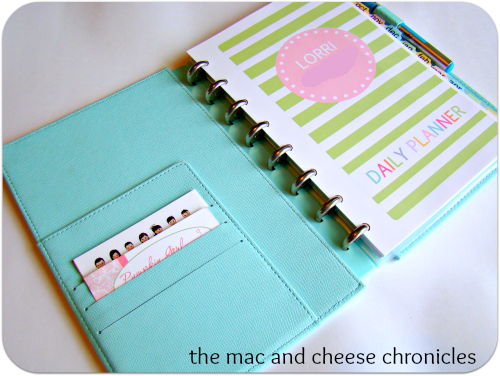 I was surprised at just how easy this was to put together. I worked on it a little at time and once I got the template made it went very quickly.  I skipped monthly view calendars because I never use them.  I skipped a perpetual "special days" page as well, mostly because I couldn't it to the right size, but I never use those pages anyway.  For filler pages I just used the pages that came with the binder.  I tucked them in the back for when I need more extensive notes than just a To Do list.
So there you have it!  Nothing to fancy, but totally customized to fit my needs.  What do you think?

Print Friendly
More Mac and Cheese, please!