I joined a Planner Addicts group on Facebook.  That's probably not too much of a surprise, is it?  And oh! the planner love we've been sharing.  One of my first posts was to share a picture of the planner that I created and I was a bit blown away by the response.  Everyone wanted one!  So I will be offering the dated pages for sale just as soon as I can figure out the method to do that over the interwebs.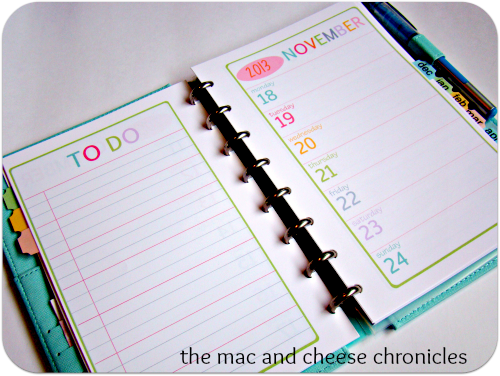 But for now I am offering the undated pages for free!  They are half sheet size, 5 1/2″ x 8 1/2′. They look just like the ones in the picture, but there is no months or dates on them.  They do have the days of the week, though.  You can add the months and dates yourself with stamps or stickers or whatever.  The file includes two pages so that you can set your printer to duplex or double sided printing.  Once you have them printed out, cut them in half at the 5 1/2″ mark.  Then punch them to fit your favorite planner.
Oh, and I did include the year, so there are two separate files, one for 2013 and one for 2014. The are PDF files, right click, then save link/file as…
2013 Blank Planner Pages
2014 Blank Planner Pages

Print Friendly
More Mac and Cheese, please!