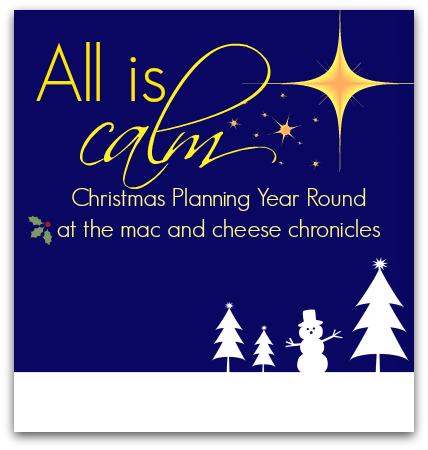 I was only going to offer new Christmas Planning pages once a month, but in reading the comments from my first post, I realized that there were a few things that would be most helpful before January is over.
One theme from the comments was budgeting.  People want to budget better and budget earlier.  That's such a great idea!  I created 2 pages that work together for Christmas budgeting.  First is a worksheet to write down items you need to purchase, the amount you want to budget, and the amount you actually end up spending.  I kept this form simple and generic (I'm going to keep saying that!) so that you can fill it in however you like.  If you want to write one line for "gifts", you can.  If you need to be more specific and budget by name of recipient, you can do that, too.  Other things you might want to budget for include decorations, travel expenses, clothing, wrapping supplies, cards and postage, and craft supplies.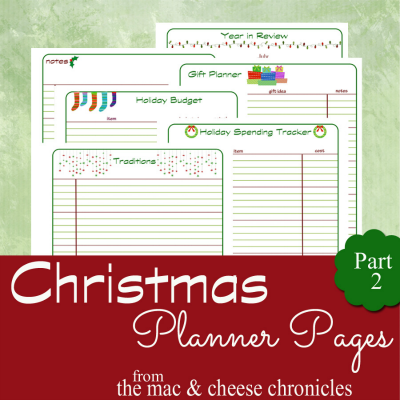 In this set, there is also a Gift Planner.  This is more of a brainstorming worksheet, where you can list every person you might want to give a gift to.  Family, friends, neighbors, kids' coaches and teachers – list them all here.  Even if you don't know future teachers' names, you do know if you'll need gifts and how many.  And if you do a gift or ornament exchange, make sure you write that down, too.  Even if you give a lot of baked goods, get that written down. This is all about getting information out of our heads and down onto paper!  Once you have a clearer idea of the gifts you need to purchase, make or bake, you can budget appropriately.  Oh, and don't forget any charitable giving, like angel trees or Operation Christmas Child. (There will be additional gift planning pages coming.  Those will help you plan more specifically.
I also created a Holiday Spending Tracker.  If you're super organized and start your Christmas buying early, you have a way to track that right now!
The Traditions worksheet is one for the whole family.  Write down every single thing you do to celebrate Christmas.  Advent calendar, daily advent readings, decorating the tree, lights on the house, caroling, baking, whatever…write it down.  Make sure all your family members get a chance to add to the list.  Then as a family, prioritze the list!  You'll notice I added a line down the left of the page.  That's the space for you to assign each item a priority level. The whole point of this worksheet is to see if there are things that can be dropped when the season gets stressful, or maybe even dropped altogether.  Once you're finished, just stick it in your planner and let it percolate.  We're going to come back to it later.
The last page is for those of us who write newsletters to send out with our Christmas cards.  It's a Year in Review page that lists all the months with just a few lines underneath.  Again, how you use this is  up to you.  I'd recommend writing just one line per family member each month.  Record milestones, accomplishments or other noteworthy events. When it comes time to write your newsletter, get this worksheet out and write it up.
I also added the Notes page to this download.  As you're working on these pages, you are likely to think of other things we haven't talked about yet.  Write down all those ideas as you think of them so that they aren't lost to the chaos of everyday life.
Click here for Christmas Planner Pages, Part 2.
My question for you today is, what is the most beloved Christmas tradition in your family?