We packed up the last of the Christmas decorations today (don't judge), pushed the armchairs back into their normal places, and sighed wistfully at the now naked staircase. Yes, my friends, Christmas is over. So that means…it's time to plan for next Christmas! I know, I'm crazy. But I'm a big fan of the All is Calm Christmas and that takes some planning. I made some rookie mistakes this year and found myself needing to have a little lie-down every so often, so I wouldn't get too stressed.
Not that having your daughter star as Clara and Fritz and having your son make Eagle Scout isn't stressful enough, but throw in some holidays and birthdays and…excuse me me while I go lie down for a moment.
Ok, I'm back.
So I'm going to try some thing new this year and I would like for you to come along for the ride. There's likely to be free planner pages in it for you!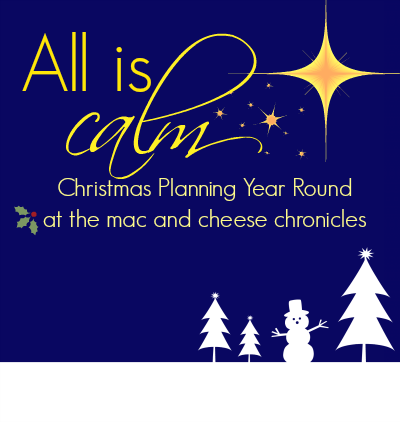 I'm going to start planning for next Christmas right now and sort of spread the thoughts and plans out over the year. My goal is to reach December in such a state of calm and collectedness that all I have to do is flip on the fireplace (it's gas) and sit down with a nice cup of eggnog and listen to Christmas carols. Of course, whether this happens or not remains to be seen, but it sounds good, right?
Here's what we're going to do today. We're going to sit down and think back to the holiday season.  Then we're going to write down the things that worked, the things that didn't work and the things we wished we'd done better.
No beating yourself for not pulling off the Perfect Family Christmas, because that's never going to happen anyway.
Look, here's a lovely printable planner page to help you! Christmas in Review There's 2 pages, the Christmas in Review page and a notes page.  Stick them in your home management binder or under C (for Christmas) or H (for holidays) in your A-Z file.  Or start a new Holiday Planner!  There will be more pages coming, including a cover/divider.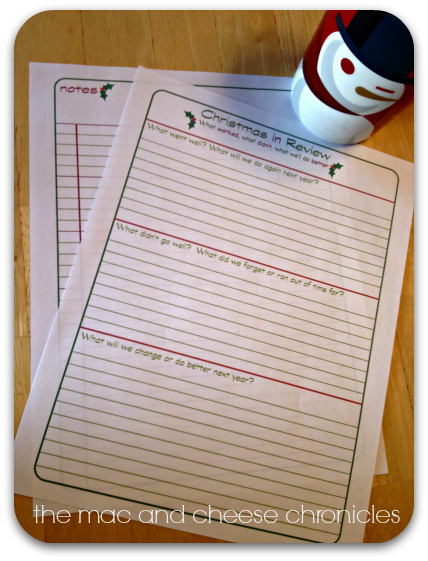 And here's where I'm taking a risk. After you've filled out this worksheet, come back here and tell me what was the best thing that happened during your holiday season and what is one thing you wished you could have done better. Don't leave me hanging with no comments, ok?  I'll go first.

Print Friendly
More Mac and Cheese, please!