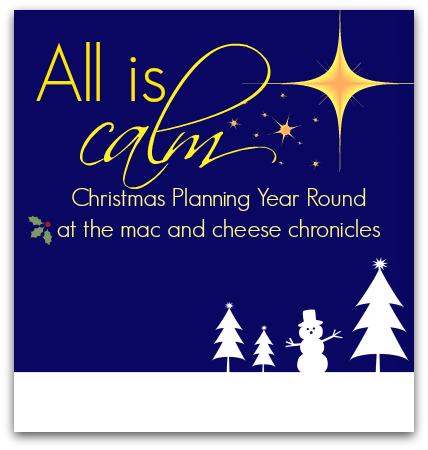 Here we are at the end of February already! Did you remember to make some notes on your Year in Review page for January?  If you write a year-end newsletter, you'll be glad you did!  Don't worry if you forgot, when you print out this month's pages and add them to your planner, you can write some things down at the same time.
Speaking of this month's pages – I've got 7 for you!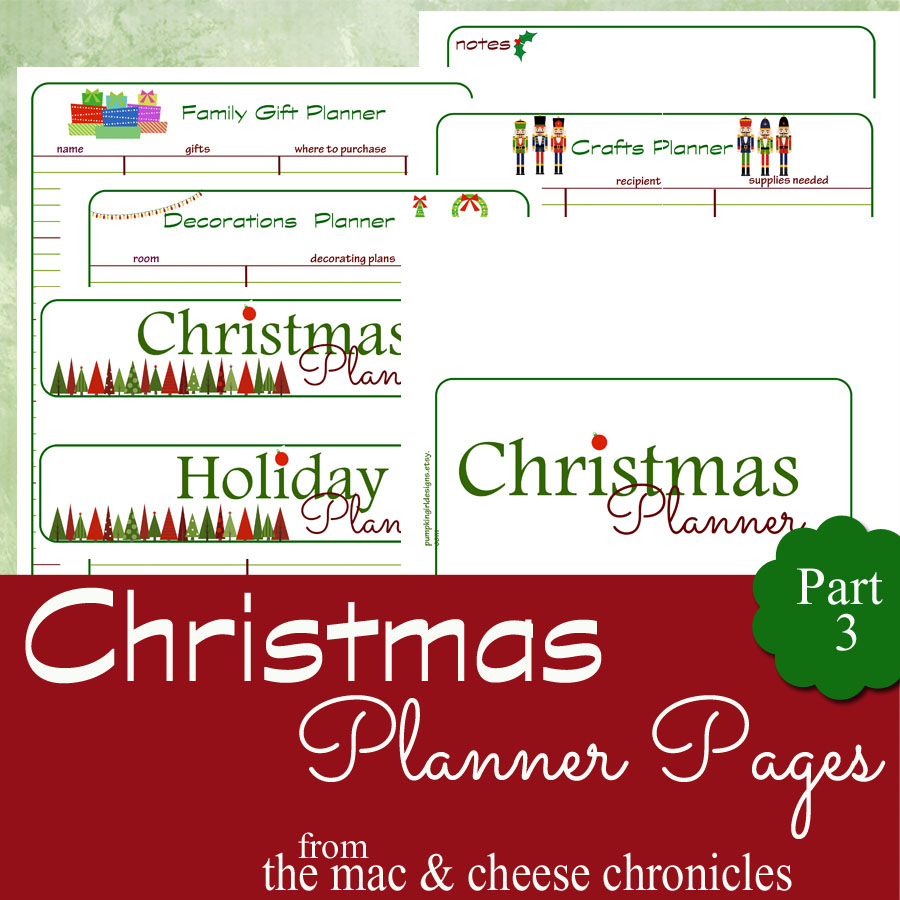 Cover and Spine
I've made you two covers for your planner, one says Christmas Planner and one says Holiday Planner.  You can slip it into the cover of your binder or use it as a cover page, or even as a divider if your Christmas pages are in with the rest of your planner or in your household binder. There's also a page with spine inserts to match.  Just trim them down to fit your binder.  As always, there is a notes page for all your random thoughts and to-do lists.
Decorations Planner
Next up is the Decorations Planner.  You've got to get up and walk around your house for this one, but you can probably count that as exercise, so it's all good.  What you're going to do is start at the front of your house and write down the room you are in, then under "decorating plans", write down the things you put in that room.  You can use the red lines to help delineate your list by room, if that helps, or ignore them if it doesn't.  Don't forget to go outside, too!
My Decorations Planner starts off with our entryway.  I have garlands (2) on the stairs, with lights (need to be replaced), and a candy garland entwined.  I tied our Santa's Marching Band to the small banister.  Nativity scene on the buffet table with random angels and the Jesse Tree.  The Advent calendar hangs on the wall.  I have some Santas in the same area, but I'm not too happy with their placement, so I made a note of that on the page.
So just cruise around your house, looking at each room or area and write it down.  If you remember that you didn't like something, things need replacing, or there is an idea you'd like to try, write that down, too.  You might need to print this page back-to-back a couple of times.
Ok, enough exercise.
Do you have Christmas Pinterest board?  Now is a good time to start one. Later in the year when the Christmas decorations start appearing in the stores, you can reference your Decorations Planner page along with your Pinterest board and decide what new things you want to try.  Don't worry, I'll remind you about this again later. If you need some ideas, you can follow Christmas Pinterest board here: Lorri's Christmas Board.
Crafts Planner
The Crafts Planner is another brainstorming page.  If you handcraft any gifts, it is time to get planning!! There's only 10 months left, but we're not going to panic.  Write down the name of the craft or project, the recipient and the supplies that are needed.  Make a note if you need to buy supplies or you have them in your stash.  Again, you can use the red lines to help separate projects.  And now that all our great craft our ideas are out of our heads and onto paper, we can better plan.  Watch those sale ads for the supplies you need and start crafting as soon as you can!  If you've got lots of crafts to make, you're going to need to grab your calendar and start deciding start-by and finish-by dates for each one.  This worksheet has the potential to get really messy, so don't worry about needing to transfer the information to a new sheet.
Another thing to do while you're planning crafts is to locate the instructions.  Are they on the internet?  Go find them and print them out and add them to your Christmas planner.  If the instructions are in a book, write the name under "supplies".
Family Gift Planner
Yes, there was a gift planning page last month.  Last month was about brainstorming all the people you could possibly need gifts for and some basic gift ideas. This one is specifically for family members who may get multiple gifts. Write the name, the gift you are buying or making, and where to purchase each gift. The last column has a W for wrapped and an M for mailed.  When those tasks have been accomplished, cross off the appropriate letter.  If you buy gifts all year, this list will help you keep track. You might want to come up with your own code for where you've hidden the presents and write it in one of the spaces in the w/m column.  MC could be master bedroom closet, G could be garage, B for basement, etc. Don't forget to write down the code on a different sheet, maybe a notes page.
Here's the link for February's pages: ChristmasPlanner February
Go forth and print and plan!

Print Friendly
More Mac and Cheese, please!