Whew!  I'm a little late with this month's pages because I was without my computer for about a week while we disassembled our entire office to make room for a new desk.  Pictures for that, later!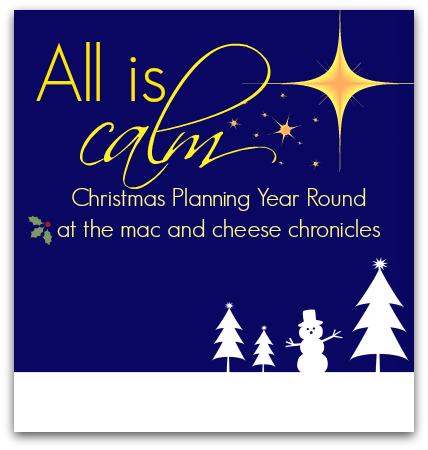 I really can't believe it is the end of March already.  And yes, I do say that every month.  First off, go back and add some notes to your Year in Review page for March. Did you go anywhere interesting during Spring Break?  My boys started taekwondo in March, so I'll make a note of it – and future ranks will be noted throughout the year.  So when it comes time to write our annual newsletter, I can be sure to mention it.
Today I have 3 new pages for your Christmas Planner.  These are prettied-up pages of what I've used for years to prepare for Christmas cooking and baking. The first page in the file is a notes page, which I always throw in, just in case you need it and so you don't have to go looking for it in an earlier download.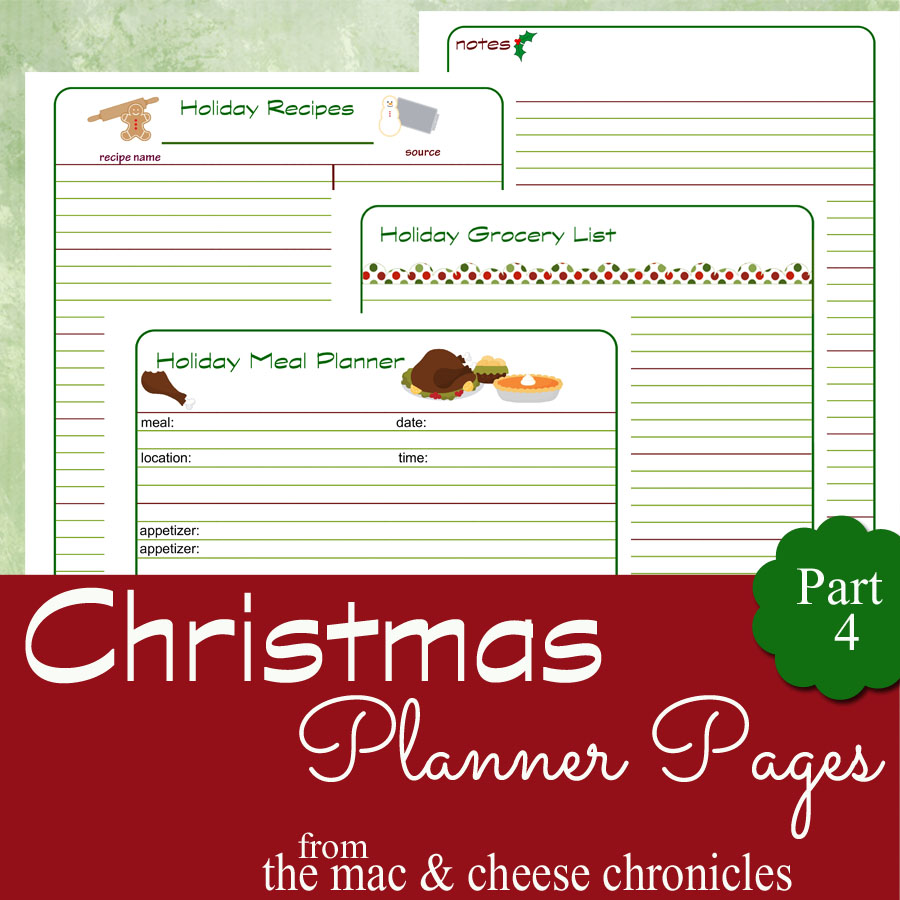 Holiday Recipes Index
I love to make lists, obviously.  This page is for you to write down the names of all the holiday recipes you'll be using.  There is a line under the title for you to write a category, like cookies, breads, candy, Christmas dinner – whatever will make it easier for you.  Then write in the recipe name and the source.  The source can be your recipe box, the name of a cookbook, a Pinterest board or other online recipe site.  You can also do a page of recipes you want to try, and if they are a success, add them to your index.
Gather up all  those family favorites and start writing them down on the Holiday Recipes index.  And while you're at it…
Holiday Grocery List
Add the ingredients for each recipe to the Holiday Grocery List.  Sometimes Christmas goodies require ingredients that you don't use any other time, so you need to make sure you write it down on this list.  You don't need to write down basic staples unless you use a lot of something.  For example, I go through a lot of butter, powdered sugar and flour over the holidays.  Keep a running total of how much of those kinds of things you need and add the total to the grocery list.
When you have finished, you will have a master shopping list that you can refer to year after year.  I keep my master list in my binder and copy it to our weekly shopping list as we get closer to the holidays.  Also, when these things start going on sale, you can plan your shopping accordingly to get all that sweetened condensed milk for the best price.
Holiday Meal Planner
This page is to help you plan out your big meals.  We actually have a traditional Christmas Eve meal as well as a big Christmas Day dinner.  Hmm, we have some Christmas breakfast traditions, too. Make sure that all your big meals have their recipes and ingredients included on the recipe index and grocery list.  Then use the meal planner to make sure you've got everything covered.  There is enough room to write the recipe name, along with the person making it. You can start filling this page out now, especially if you menu stays the same every year.
And since we're thinking baking and cooking, now is a good time to assemble a Christmas Cookbook.  You can copy or print out all your recipes and put them in their own little binder.  Or you can put them in different section of your holiday binder.  If you make a cookbook, you can use the recipe index as a table of contents.
This can be a time-consuming project, so that's all I have for you this month.  You can download the Holiday Meal Planning Pages here: Christmas Planner March
So tell me, how are you liking these pages?  Do you think they will be helpful when we get closer to Christmas?  Is there a particular planner page you're hoping to see?