Have you seen the movie "Frozen"?  I haven't.  I know, I know!  But I've got it on pre-order and the DVD will arrive tomorrow.  My little boys and I are planning our own personal viewing night, complete with popcorn and hot chocolate.
Speaking of which…
If you haven't seen "Frozen", but most especially if you have and you LOVE it and you're planning on getting the DVD – hold on just one second.  The Mac and Cheese Chronicles is a proud sponsor of this amazing giveaway.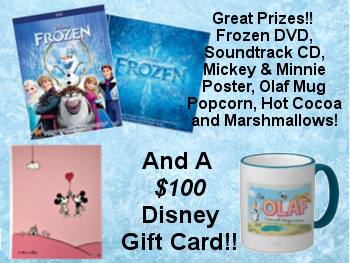 Check it out! The "Frozen" DVD and the soundtrack,  a Movie Enhancement Package of Yum (I made that up) that includes hot chocolate, marshmallows, popcorn AND an Olaf mug, a Mickey and Minnie Poster and a $100 Disney Gift Card.
I'm dying here because I can't enter.  But you can, and it's really simple.  Behold – here's a Rafflecopter Contest Whatchamahoozit.
And, for those of you who are entirely sick of being Frozen (I'm looking at you, Maryland, with your 8 1/2 feet of snow) – how about a vacation in sunny Florida or California?  Go over there on my sidebar and scroll down until you see my affiliate link.  My friend Jennifer will hook you up with some sweet Disney vacation deals.  She can help you with either FL or CA. She's the one who put this whole giveaway together.

Print Friendly
More Mac and Cheese, please!