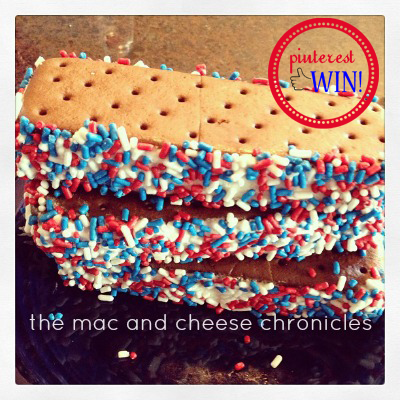 I found this idea on Pinterest last June, just in time to try it for July 4th.  It is so simple that you can just look at the picture and figure out what to do.  An easy project with high impact – it's just full of Pinterest Win.  Just roll ice cream sandwiches in red, white and blue sprinkes, wrap them back in their original wrappers and freeze.
The only thing to watch out for is the ice cream melting faster than you can work.  I would just unwrap each sandwich as you need it, rather than doing them all ahead of time.  I would also recommend making these ahead of time and letting them refreeze.
Wouldn't these be fun to make with different kinds of sprinkles to match the occasion?
My inspiration for these is from this post at A Thrifty Mom: July 4th Dessert Ideas

Print Friendly
More Mac and Cheese, please!