October is here and for the first time in several years we are not completely overcome with the madness that is Nutcracker Rehearsal Time.  Pumpkin Girl has chosen to only participate in one Nutcracker production this year which leaves our Sundays completely free.  Bip and Boo are no longer playing soccer, so even our Saturday schedule has lightened up.
With last year's All Nutcracker, All the Time schedule, Pipsqueak became quite enamored of all the characters.  He said he even wants to be the Rat King when he gets older. For now, he has his very own Nutcracker stuffed friend from Build-a-Bear, a gift from his godparents, and he was eyeing the custom dolls I had made for Pumpkin Girl, until she put them out of reach.  Not before he manage to straighten one of Clara's curls, though.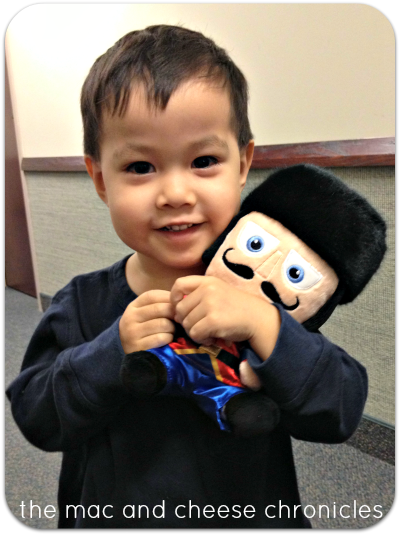 I went in search of some sort Nutcracker toys that I could make for him, but there isn't really a whole lot out there.  Most everything is decorative, for display only. But I did find these really cool paper puppets. And even better, Clara is a brunette like Pumpkin Girl and the Nutcracker Prince has a similar costume as her prince.
(This is the point where she would say, "Mom, I can't believe you're talking about Clara again!"  Tough.)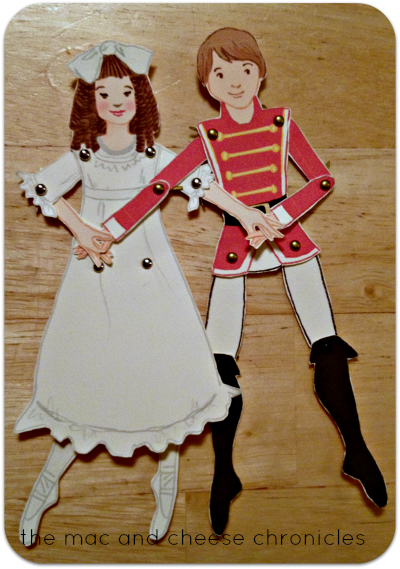 Here I have them artfully posed just like in the pas de deux  that Pumpkin and her Prince dance. (Shush, honey, this is MY blog!)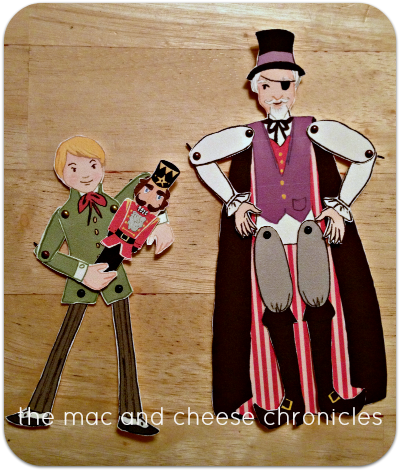 The Fritz paper doll looks nothing like Pumpkin, but that can't be helped.
What I like about these is that I can print them out at home (I used card stock) and use mini brads that are easily found in craft stores.  And if they get ripped, I can easily make more.
The only thing is that Pumpkin Girl decided they are for her, so I need to make another set for Pipsqueak.  I may try laminating them with my Xyron machine first.
You can purchase these paper puppets, including a stage at this link right here: Nutcracker Suite Puppet Theater

Print Friendly
More Mac and Cheese, please!