I was fortunate to attend a junior high that had required home ec and industrial arts classes. We learned to cook and bake, sew, draft (technical drawing), and work with wood and metal. Several of my projects from those classes still survive! Actually, I just took possession of them again, as we upsized our house while my parents have been downsizing. Hmm, I think I feel another blog post in that!
I was looking for a recipe in a magazine the other day and I came across my original copy of a recipe from my junior high cooking class. It's for "balloon buns" – a quick and simple snack.
Check it out –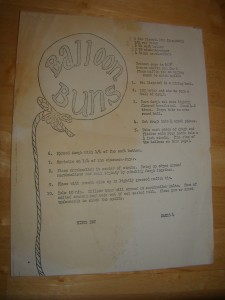 Can you see the discoloration around the drawing of the balloon? That's because you can measure your dough right on the balloon, so that's years of grease traveling across the page!
I thought I'd share this recipe, not because it is any great culinary achievement, but because it is something kids can learn to make. And because balloon buns make me smile.
Ingredients
1 cup biscuit mix
1/4 cup water
2 Tablespoons soft butter
2 Tablespoons cinnamon-sugar
4 large marshmallows
Instructions
Preheat oven to 400 degrees. Grease muffin pan for 4.
In a mixing bowl, combine biscuit mix and water to form a ball of dough. Turn dough out onto lightly floured breadboard. Knead 4-6 times. Shape into an even round ball.
Cut dough into 4 equal pieces. Take each piece of dough and flatten with your hand into a 4 inch circle.
Spread dough with 1/4 of the soft butter, sprinkle with 1/4 of the cinnamon-sugar. Place marshmallow in center of circle. Bring up edges around marshmallows and seal tightly by pinching dough together. Place with smooth side up in lightly greased muffin tin.
Bake 10 min. Balloon buns will expand as marshmallow melts. Some of the melted centers may ooze out if not sealed well. Place pan or baking sheet under muffin tin to catch spills.
Serve hot, makes 4
http://themacandcheesechronicles.com/2010/09/23/balloon-buns/
www.themacandcheesechronicles.com
(I doubled this recipe for our family, and the only thing I actually measured was the biscuit mix and water. After forming the dough circle, I just spread butter on them and sprinkled with cinnamon sugar without measuring.)

Print Friendly