Hat! Soccer hat, specifically.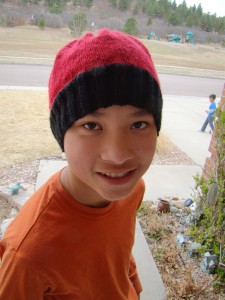 I have actually managed to squeeze in a little knitting here and there. It took me 2 weeks, but I made a hat for Boo that matches his soccer uniform. He plays in a club that has the same uniforms every year, so no need to make him a new one every season.
Spring soccer in Colorado is a chilly affair. As I type it is 52 degrees and falling, and soccer practice is still an hour away. Last year we had a game canceled because the snow from earlier in the week had made the field too wet. I think that was in April.
I send the boys to their games and practices with hats, sweatshirts, and even gloves. I keep telling them that suffering breeds character.
This is another hat from The Knitter's Handy Book of Patterns. Just a basic K2P2 rib for 2 inches, knit until it fits, decrease evenly and finish. I like to reference the book for the exact numbers to cast on based on the yarn I'm using, the needles I have available and my gauge.

Print Friendly