After a wonderful visit with my grandparents and extended family, it was time to head north to my hometown. We let my grandpa feed us one more breakfast, then off we went. On our way we stopped at La Brea Tar Pits.
Once upon a time, this one particular spot in the Los Angeles area had tar seeping out of the ground. Rain would collect on top of the tar, giving the illusion that it was a lake or pond. Animals would stop for a drink and get trapped in tar. Often, other predatory animals would hear the distressed animal and move in for the kill. Then those animals would get stuck in the tar. In recent times, these tarpits have been excavated and the bones of the trapped animals were removed, sorted and cataloged. I thought it was all rather cool and haven't actually been to the tarpits since the very early 70s. I don't even remember, but I have a post card to prove it.
OK, I looked all over for my postcard. I know I kept it, but it's not in my box of paper treasures from my childhood. I'm very disappointed that it's missing. But it looked exactly like this picture that I took: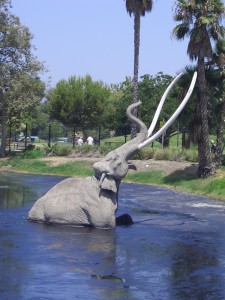 When we first got there we could smell the tar right away. It was a hot day and it smelled like a newly made asphalt road. The biggest tar pit is the one shown in the picture and has a trapped mama mastadon calling to her baby and her mate. It made Pumpkin Girl very sad, so we like to pretend that the mama was actually able to get out of the tar and rejoin her family. Even though in real life she would have been stuck for good. And of course, it's just a model and not real and nobody's mama mastodon is currently stuck in the tar…but Pumpkin is sensitive like that, so what can you do?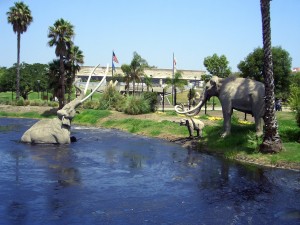 "Mama, mama!"
Ok, enough, now even I'm getting sad!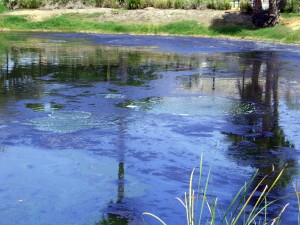 See, how the tar actually looks like water? Except that every so often hot tar would come bubbling up. And it smelled like tar.
The tarpits themselves are free to visit. They are just out there and you can walk around and take pictures. There's a small museum to visit, which we did.
Here's one of the coolest things that happened – when we were paying for admission, Philip asked, as he always does, if they had a military discount. Most places it's 10% off. Occasionally it's free admission for the military member. This time our entire family got in free! Philip showed them his military ID and the guy thanked him for serving. Can you believe it? How unbelievably cool was that? So thank you, La Brea Tar Pits, we appreciate your appreciation.
The first thing we did in the museum was to watch the short introduction movie. It set the scene for what we were about to see. Then onward into the rest of the museum.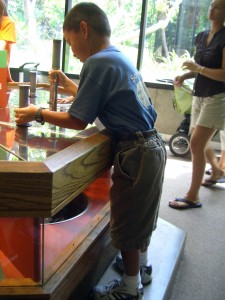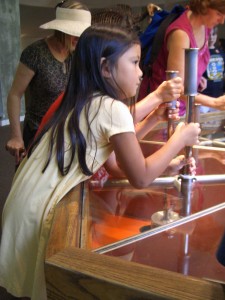 Boo and Pumpkin Girl tried to pull iron rods out of a pit of tar. You could see how difficult it would be free even one limb once you got stuck in the tar.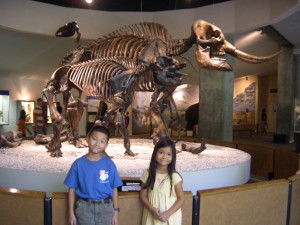 Pumpkin and Boo in front of the fossil bones of a mama mastadon and her baby that perished together in the pits. "Mama, mama!" No, let's just not go there.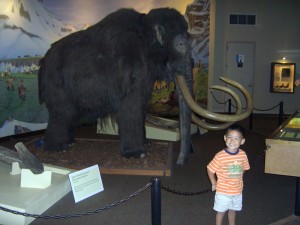 Bip liked this wooly mammoth that was also found in the pits.
Part of the museum was an area where you can observe scientists were working on more of the newly discovered fossils. Each scientist had a little sign telling you what kind of fossils they were working on.
We had a lot of fun at the tar pits and if you're in the LA area, I'd recommend going. The whole visit only took a couple of hours, so it's easy to tag on if you're on your way someplace else. It occupies the same block as the LA County Museum of Art if you want to make a longer day of it.
Whatever you do, do not pretend to make the baby mastadon say,"bye bye, mama." Not that anybody's daddy did that or anything.