I have enjoyed these holiday cookies for as long as I can remember, which makes the recipe at least 35 years old. They are a favorite of my children, too. If I could only make one Christmas cookie, this would be it.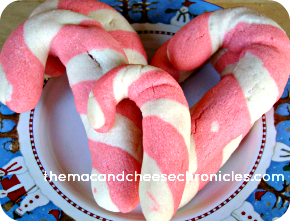 Candy Cane Cookies
1/2 cup butter
1/2 cup shortening
1 cup powdered sugar
1 egg
1 tsp vanilla
1/4 tsp peppermint extract
2 1/2 cup flour
red food coloring
Beat butter, shortening and sugar until light and fluffy. Beat in egg, vanilla and peppermint extract. Add flour.   Divide dough in half, color one half red. Wrap each half in wax paper and chill at least one hour. Form into balls. Roll a white ball and a red ball together to form one stick with the red and white entwined.* Place on a greased baking sheet, turning one end of the sticks to form a cane. Bake at 375 degrees for 12 minutes or until golden brown.
Serve with eggnog.
Just kidding about the eggnog. Sort of.
*This is my personal candy cane forming technique, developed over years of practice. You might find it easier at first to roll the balls into logs, then twist them together. It takes the perfect touch to roll two balls together to form a twisted log without smashing them together into a mess.