Pumpking Girl reminds me that I have been remiss in showing you all her First Communion banner.  Bad mom!
She had her own ideas of what to include on her banner, but several of them were way beyond my drawing abilities or wouldn't work well with felt.  We took her basic idea, sketched some figures and while looking for a model of a dove, we found a sticker in her take-home pages from Religious Education that was what she wanted.
I cut, she glued.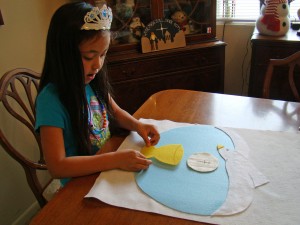 We used the same foam letters that we used with Boo's banner (I've blurred her real name out) and she was very pleased with the result.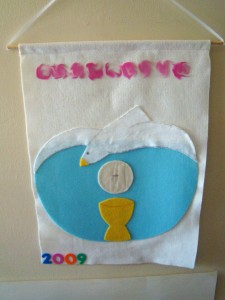 Oh!  I can't forget – my mom brought me the class picture from my own First Communion.  Check it out: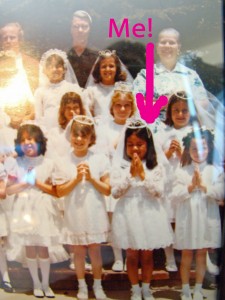 I took a picture through the frame instead of scanning it, thus the poor quality and the glare.  But you get the point.