Look who joined our family!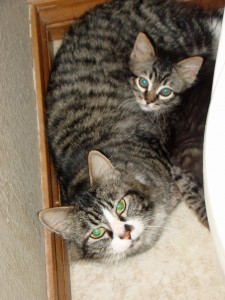 This is Mittens and Cinnamon, our new kitties.  In this picture they are taking refuge between the commode and the wall.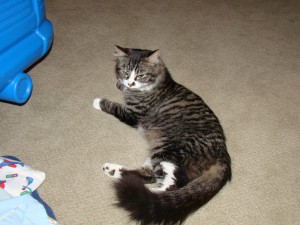 Mittens is the mama cat and she is 2 years old.  She's very sweet, very soft and doesn't seem to mind all the people who need to pet her.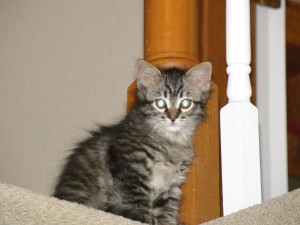 This little puff ball came to us without a name and the children decided to call her Cinnamon.  She is a Fierce and Powerful Fighter, who likes to make sure that the curtains are properly subdued.  She's still not too sure about us, but we manage to catch her and love on her anyway.
We had to drive halfway to Kansas, or so it seemed, to get the cats from Pumpkin Girl's piano teacher's family.   We've been wanting to get a cat since we've stopped moving and it worked out nicely that we could get a kitten and her mama.  It's nice having cats in the house again, especially these two.  They are slowly getting used to all of us, but they've really taken to Pumpkin Girl.  She likes to find their hiding places and read aloud to them.  She spends practically all her free time with them, so they've grown to trust her in particular and have moved into her room.  She couldn't be happier!

Print Friendly
More Mac and Cheese, please!