I recently got one of these Butter Bell things. You load the lid with butter and put a little cold water in the base and the butter stays fresh, soft and spreadable. Change the water every couple of days and all is well. Mmms, soft butter on homemade bread.  Bliss!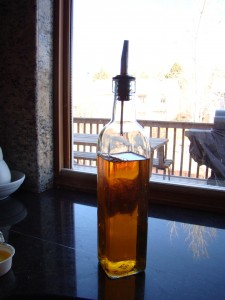 I got this idea from my friend Tami.  She puts her dishwashing liquid in an oil carafe thing.  The name completely escapes me at the moment.  Anyway, it looks so much better sitting near the kitchen sink than that bottle of soap.  I happen to have a window behind my sink so the light shines through and makes it even prettier.  Tami has good taste and I copy her as often as I can.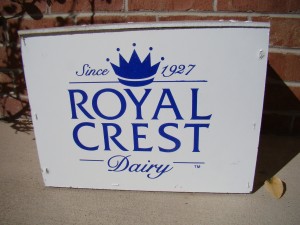 Ok, so this isn't in my kitchen, it's on my front porch.  But what  you find inside it does end up in the kitchen.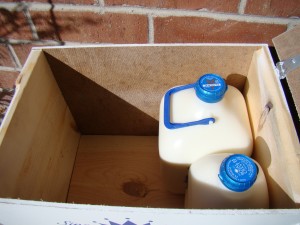 See?  This is the best milk ever, at least according to my children.  The first day they tried it, they declared they like it better than our regular stuff.  It's hormone and antibiotic free, not raw but not ultra-pasteurized either AND it's cheaper than the milk at the commissary. Bonus points because the empty bottles go back in the box to be sterilized and reused.  (Does that make it green milk? Ha, Ha!  I crack myself up!) Plus, it is so much fun having a milk man, even if his truck does sometimes wake me up by idling in front of my house at 4 am.

Print Friendly
More Mac and Cheese, please!