I made this monster for Bip: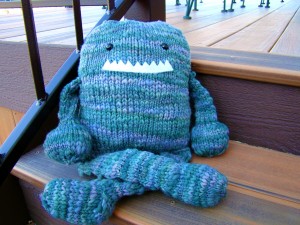 I started him 2 years ago when I was newly pregnant with Pipsqueak.  The only problem was that I get this Super Sensitive Smelling Power when I'm pregnant.  I can smell chocolate, through the packaging, while just walking by a display of Easter candy. Sounds cooler than it actually is because smells become so strong that I get nauseated.  Well, this little monster is made out of wool, which has a faint smell.  And when I was pregnant – wow! – I was totally overwhelmed with it.  I tried to carry on, but I just couldn't.  I put it away, hoping to pick it back up before the end of the year.
One thing I forgot was that the memory of certain smells would still make me nauseated for a while after the baby arrived.  And even the memory of being nauseated doing what I was doing at the time would make me nauseated.  It was a very long time before I could even pick up the project bag containing my half-finished monster.  Then one day last week I saw it, picked up and buried my nose deep in the yarn and breathed in. Nothing but the faintest of wool smell!  No nausea at all.
So I finished up that monster and presented him to Bip.
This  project made me feel particularly good to finish because Bip was a good sport when I told him I could no longer work on it, but I would get back to it as soon as I could.  Nothing like the smile on your child's face when you fulfill a promise.

Print Friendly
More Mac and Cheese, please!