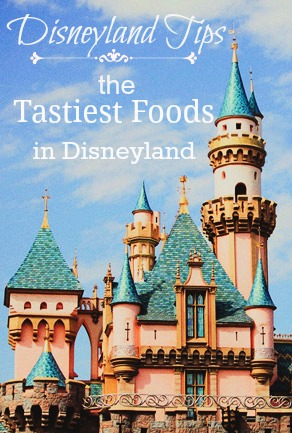 Disneyland food is not cheap, so if you're going to be spending a lot of money, it better be worth it, right? People are always asking me about my favorite restaurants and food at Disneyland.  They're not stopping me in the streets or anything, but if someone I know is planning a trip, they ask me about food.  Now, I'm not a foodie or a gourmet or anything fancy like that. I'm pretty easy to please, food wise.  So all that being said, these are my Disneyland food favorites.
1.  Mickey Bars, of course.  You can go for the ice cream dipped in chocolate or the ice cream sandwich, but both are shaped like Mickeys.  No trip to Disneyland (or Disney World or the Disney cruises) is complete without a Mickey Bar.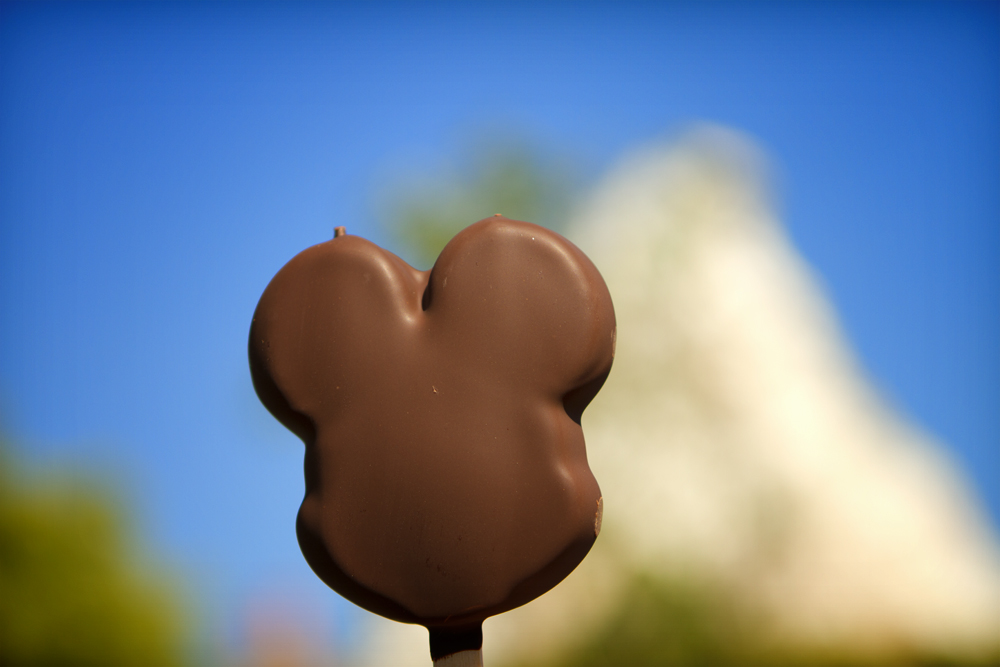 photo courtesy of K!ngrum
2. Dole Whips.  If you haven't had a Dole Whip, you really haven't lived.  You can buy these at only one place in Disneyland, and that is at the Tiki Juice Bar at the entrance to the Enchanted Tiki Room.  You can stand in a long line outside the ride if you want.  But it is far better to go through the turnstyle to the shaded waiting area for the show.  You can order your Dole Whips from inside the waiting area, eat while you wait and *you can bring your treat into the show*.  Just be nice and throw your trash away on your way out.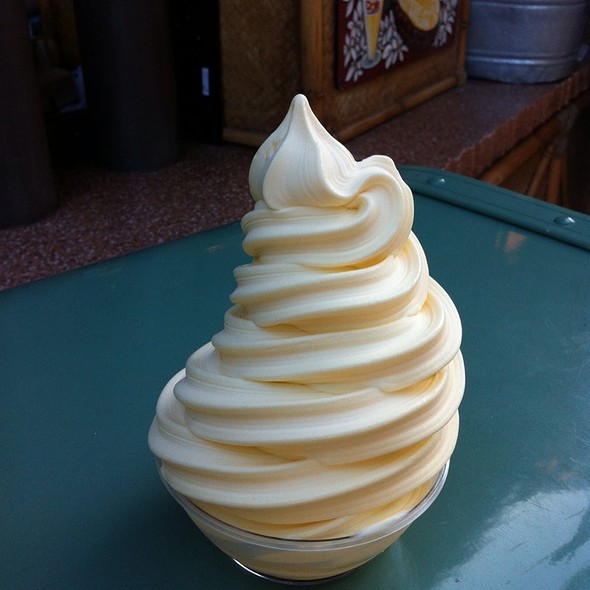 3.  Kabobs at the Bengal BBQ.  This counter service restaurant is in Adventureland, approximately across from the Indiana Jones ride.   The kabobs are tasty and filling and not what you'd consider your average park fare.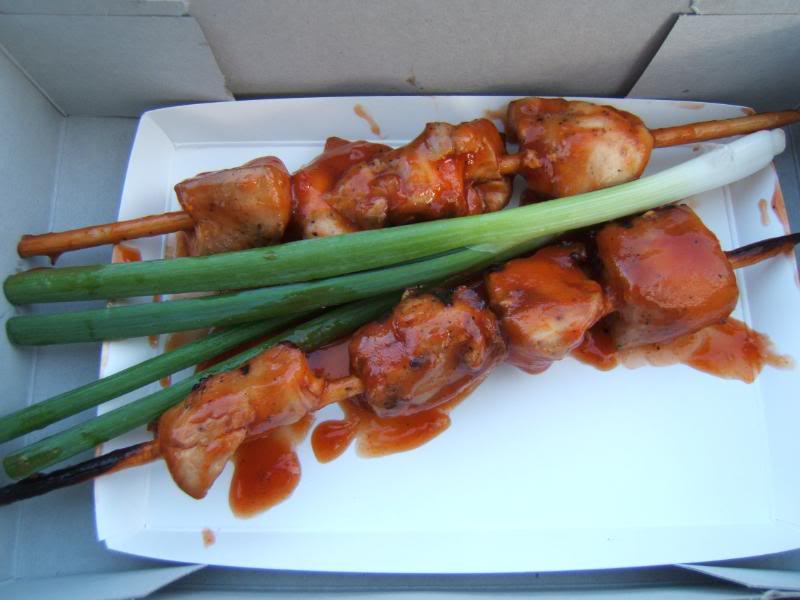 4. Cream cheese filled pretzels.  You'll either love these or hate them.  I happen to love them.  They are ooey-gooey, sweetness in a carb.  What's not to love?  You can find them in a pretzel cart near Star Traders in Tomorrowland, across from the AstroBlaster ride, or in California Adventure, over by Goofy's Sky School, in a little food hut.  You can also get plain, Mickey shaped pretzels, if that's more your style.
5.  Churros.  Yes, you can get these anywhere now, even Costco and Sam's Club for much cheaper and much bigger.  But they taste better at Disneyland.  Trust me on this.  I did extensive research, just for the blog.  See how much I love you?  Churro carts can be found all over Disneyland.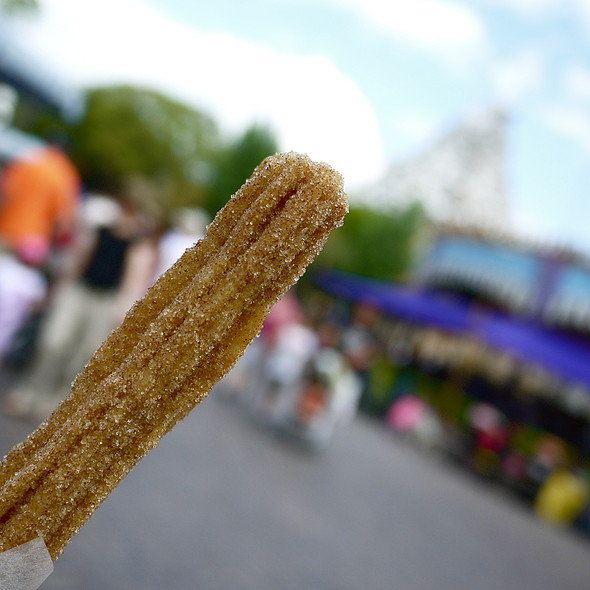 6.  Chicken sausage in a pretzel bun at the Village Haus in Fantasyland.  Mmmmm. Chicken sausage, pretzel bun, add some sauerkraut and mustard.  Almost good enough to make me wear leiderhosen and play an accordian.  Almost.
7. Monte Cristo sandwich at the Blue Bayou.  First off, this is our favorite resturant, in or out of Disneyland.  The atmosphere is amazing.  You are indoors (with air conditioning!), but it looks like you are actually outside, dining next to a Louisiana bayou. But the bayou is actually the water of the Pirates of the Caribbean ride and the boats are floating right by!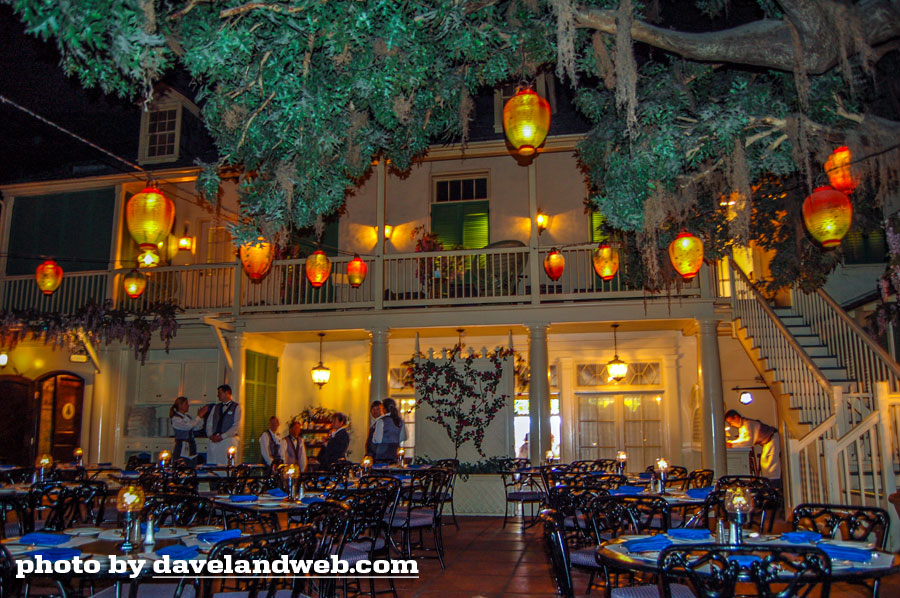 photo courtesy of davelandweb.com
 All of the food is good at the Blue Bayou but my favorite is the Monte Cristo sandwich.  The first time I ordered it, I thought I was getting a croque monsieur, which is a grilled ham and cheese sandwich.  Turns out, I had the name wrong.  So when I got a ham, turkey and cheese sandwich, dipped in batter and fried, dusted with powdered sugar and served with jelly on the side…you can say I was a bit surprised.  And delighted!  It was delicious.  Don't even think about the calories on this.  Think instead about how much exercise you're getting walking around all day.  Oh, and you can also get this sandwich at Cafe Orleans.  Both restaurants are in New Orleans Square.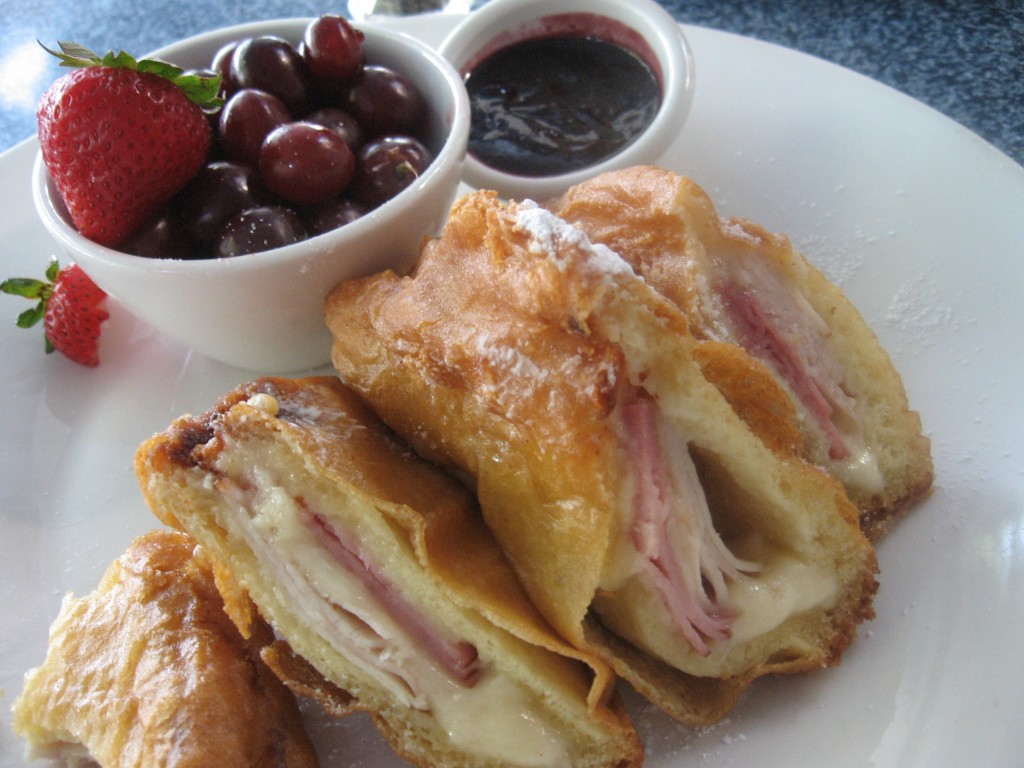 8.  Clam chowder in a sour dough bowl at the Royal Street Verandah, New Orleans Square.  My mouth waters just thinking about this!  I haven't actually had one in a long time, but hopefully they are as good as I remember.
 9. Anything at the Napa Rose in the Grand Californian Hotel in Downtown Disney (and connected to California Adventure).  My friend Shanti is a self-described food snob and this is her favorite restaurant in the Disneyland Resort. In her own words, Napa Rose has "good food, good wine, and really good service."  They change the menu all the time, so she couldn't tell me her favorite meal. She does say they are good with kids there, too.  We might just have to check it out soon.
So what do you think?  Did I miss your favorite Disneyland food?

Print Friendly
More Mac and Cheese, please!