So, here we are on the last day of the year and I've noticed a trend around the homeschooling set on the internet.
We're looking to be more organized this year. Lots of people like Dawn, are sharing their planning and organizational tools, so we can try to find a system of our own. Yesterday, I shared my love of list-making and how I keep my lists and notes organized. I admit that I went on a bit about my new Circa notebook.
I've spent the last couple of days transferring any notes and lists worth saving from my 2007 notebook into my 2008 book. As I was busily writing, it occurred to me that with the versatility of using a Circa, I won't have to start a new notebook next year. I can just remove the pages that I don't need, add some fresh pages and I'm ready to go. Cool.
I've just got to admit one thing here. I hate having unused pages in my notebook at the end of the year. I feel like I wasted them. I also hate tearing pages out of my notebook. The paper it leaves behind is too messy, even if the pages are perforated. I know, I know…let it go. I'm trying. But of course, with a Circa I can add and subtract pages all day, without a mess.
So by now, you've either stopped reading or you've clicked over to Levenger to get yourself one of these Holy Grails of Organizational Madness.
Let's go on a little tour of my 2008 and Beyond notebook.
Here it is.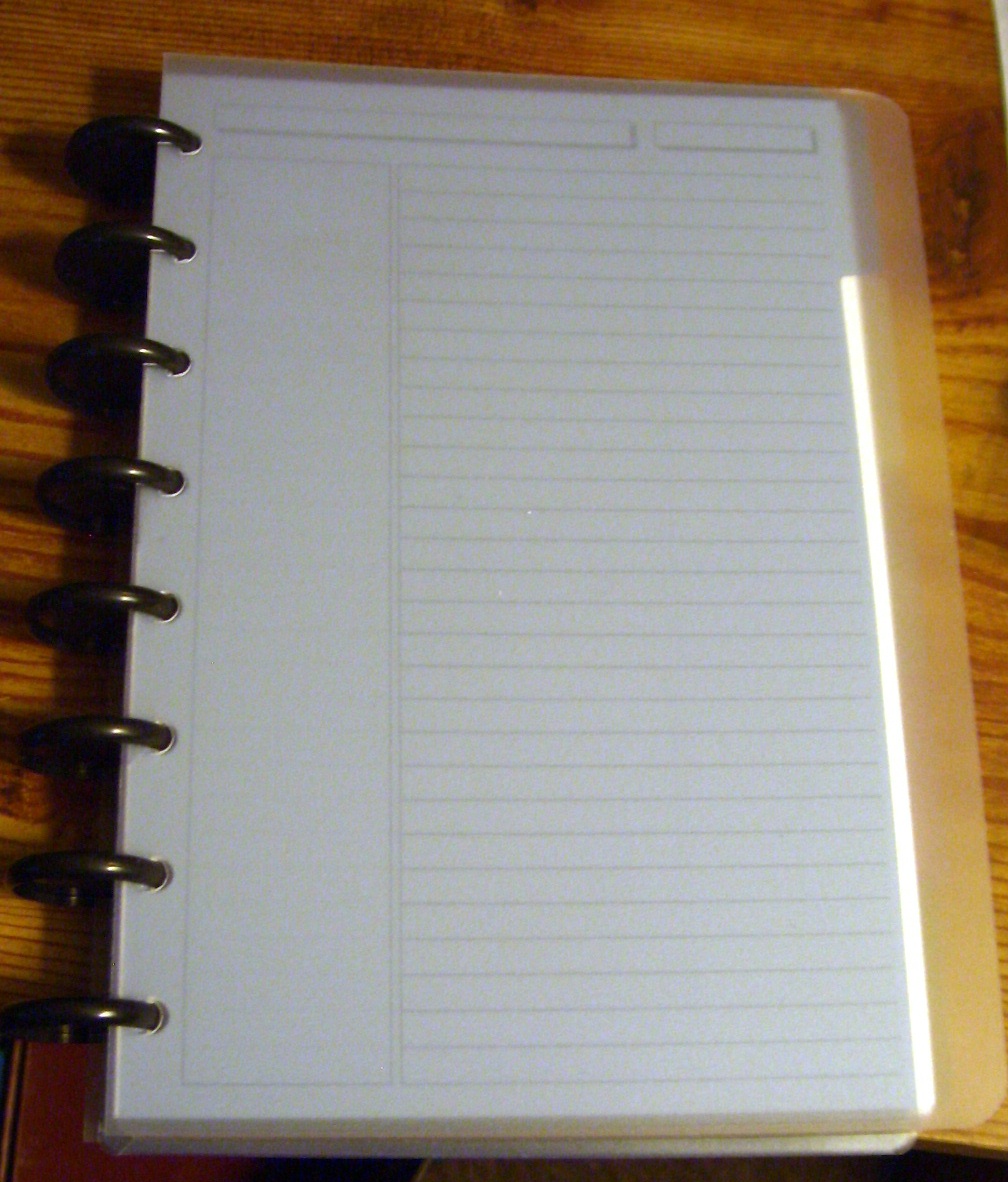 It doesn't look like much, I know. I have terrible lighting in my house and the flash didn't help. I'm using the "junior" size, which is approximately the same size as a half sheet of paper. What you can't really see is that the cover is translucent and I have 5 tabbed dividers. I'm planning on finding some pretty scrapbooking paper to use inside the plastic cover to make it prettier.
Here's the first page of my first section.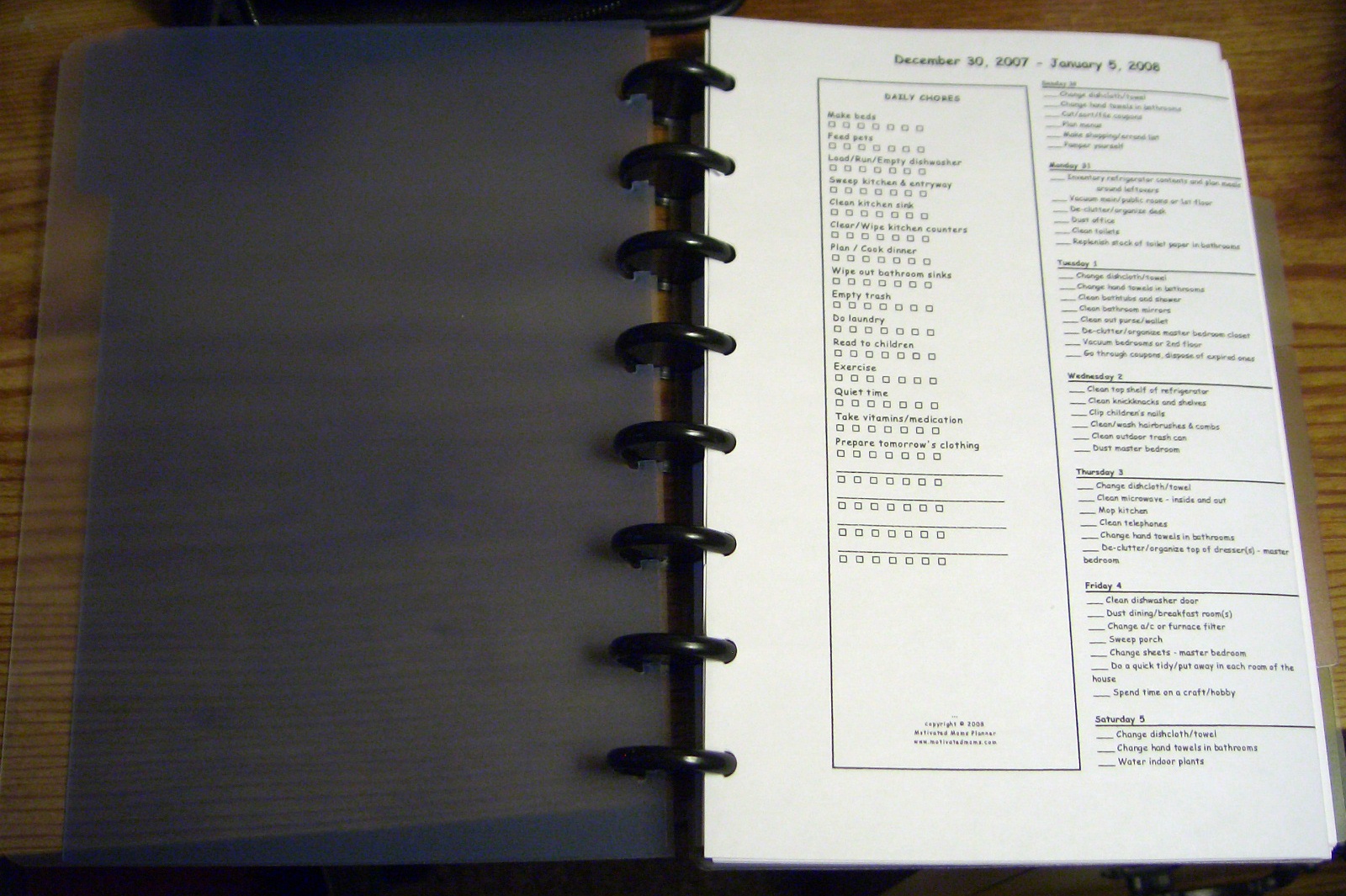 It's the current week's page from Motivated Moms. I printed a whole page of the half page size, folded the paper in half so that one week is showing on each side, and punched it. The rest of this section will be my everyday lists and reminders, including menu plans and shopping lists.
Section 2 is my homeschool plans.


Here you see my Plan from now until the 2012-2013 school year. Remember, I'm using Sonlight, so this is just an outline of which cores and language arts programs I'm planning to use and when. Next is a list of timeline figures I'm using with my current core. Then is our Catholic homeschool group's plans for the remainder of the school year. Other things I'll be including in this section are art ideas, school shopping lists, and anything else school related. When it comes time to review our school year, I'll write my notes here.
The next section is for thoughts, ideas for blog posts, funny things my children say, that kind of thing. Sometimes I use it to maintain a prayer list.
Section 3 is for projects. Right now I have a list of the try-its our Brownie troop will be working on. All Brownie related notes will go here. I also include non-school related projects here, primarily shopping lists or ideas. For example, if I need a certain kind of yarn or needles for an upcoming knitting project, I'll write it here.
The last section is for anything else, usually something temporary. Christmas lists, packing lists for upcoming vacations or anything that doesn't fit into any of the other sections. Here is where the Circa is really going to be helpful. Lots of times I'll start a list, like to-do lists for a vacation, in a different section. Then the project or the planning grows and starts needing a section of it's own. Now I can just move the pages, instead of having to flip back and forth between sections. Or the opposite will happen, I'll start notes in the temp section, only to realize that they belonged with my homeschooling notes.
Well, there you have it. The secret to my success. Or the manifestation of my madness. Whichever. If I've bored you to tears, blame Matilda. W-a-y back in June, she asked me about my notebook. I bet she thought I forgot.

Print Friendly
More Mac and Cheese, please!