Here's the baby booties I was knitting that caused people to start planning baby showers for me.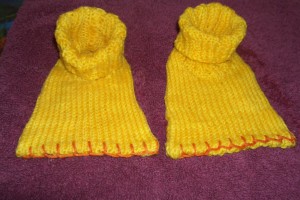 Aren't they the cutest things you've ever seen? Go on, admit it. This set is going to the grandson of a good friend from Korea. Let me just tell you that I'm not old enough to have friends with grandchildren. My friend Tammy (not to be confused with the Tami that lives down the street from me) just happened to start having children early in her marriage and she just married off her oldest daughter last June. Now her daughter is having a baby. Her daughter Lindsay was my chauffeur for a week when we all lived in Korea and Philip was off playing war games and I had failed to pass the written driving test for my military license. It was Philip's fault, of course, because he gave me the wrong book to study. (In all fairness, this was the book that was given to him).
So Philip was gone and I was unable to legally drive and of course, this was vacation bible school week, so I was supposed to be driving back and forth to the chapel everyday. Lindsay was very sweet to drive me where I needed to go and didn't even giggle when I failed the test.
Of course, I got 100% when I retook it.
ANYway – Lindsay is married and expecting a baby, so duck feet booties are in order.
(The pattern for these can be found in 50 Baby Bootees to Knit. I did them in Rowan Cotton Glace in some shade of yellow.)

Print Friendly
More Mac and Cheese, please!