I took a break from knitting to finish up a crocheted baby hat.  This is for the same friend that I made the duck bootees for.  Here it is, being modeled by Pumpkin the Doll who is about the size of a 8 or 9 month old baby.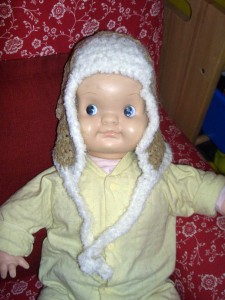 Pumpkin wasn't cooperating and wouldn't lean forward so you can get the whole affect.  It's an aviator cap with a bill that is flipped up and tacked into place.  Oh wait, here's the book the pattern is in.  Now you can see it better.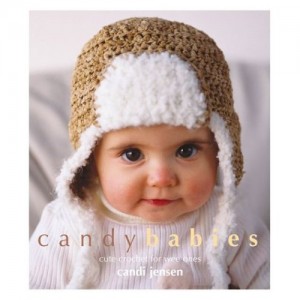 That baby on the cover totally sold the book for me!  I made the same hat for Bip a couple of years ago.  It's a really fast and easy project, took me two nights to finish it, not including the time waiting for a second ball of yarn to arrive in the mail.  I started the second hat with leftovers from the first hat and ran out halfway through.   I just found out that one of my cousin's is going to have a baby boy, so I think another one of these hats in order.

Print Friendly
More Mac and Cheese, please!