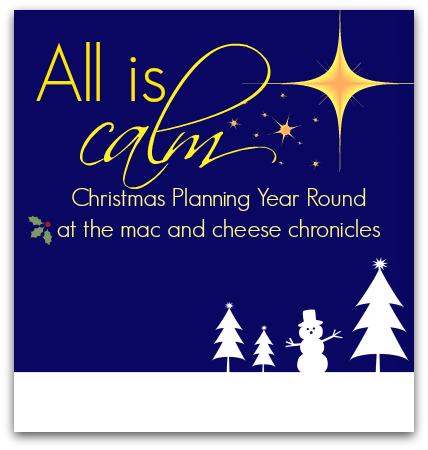 Yes, I know it's May.  Good grief already!  Life is just getting in the way over here.  I guess that's why I like to have a plan in place so that I can get back on track.  So let's just pretend that this post was written two weeks ago, OK?  And let's also just assume that May's pages will be on time.   Onward…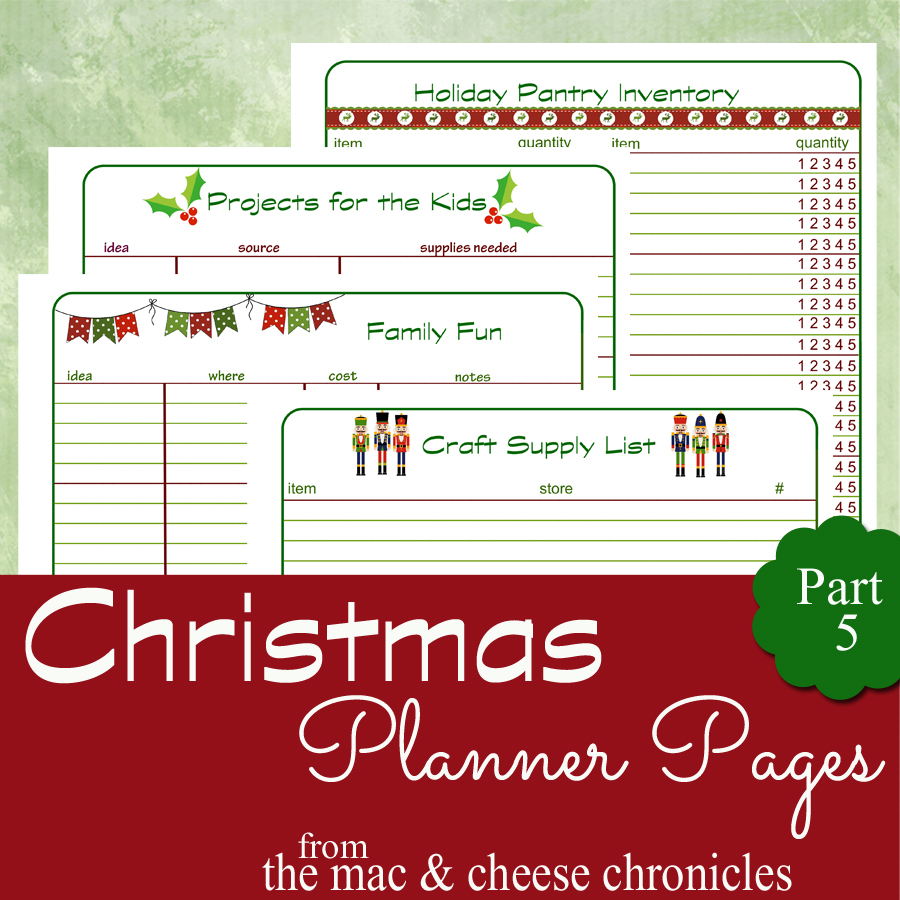 This month I have 4 new pages for you.
The Craft Supply List goes with the Crafts Planner from February (links to previous pages will be at the end of the post).  In February, we listed all the Christmas crafts we hope to make.  If you haven't already, get the patterns and instructions for those crafts and print them out or make copies. Stick them in sheet protectors or a poly folder made for binders so that they are all in your Christmas Planning Binder for you to find easily.  But first, list all the supplies you will need on the Craft Supply List.  This is now your master shopping list.  Watch those Sunday ads and if you have a smart phone, get the app for your favorite craft store.  They usually have a coupon and you just have to show the cashier your phone with coupon and there's a code they will enter.  Nice!  I've provided space for you to write the store name and the quantity of the item, if you need it.  Once again, every 5th line is red which is to help you group list items together.  If that's not helpful, just ignore it. So once your Craft Supply List is complete, you are ready to shop!  But make sure you have one designated spot for your supplies so that you can find them again!  Maybe use one of the note pages I've made for my All Is Calm series and write down where you've stashed that stash.
Next up is the Family Fun page. This one goes with a page back in January where we listed the things that make our ultimate Christmas.  Write down the family activity, where it is, the cost and any relevant notes. Maybe you like to see the Nutcracker on a certain weekend, or have a cookie exchange with your daughter's friends, or go caroling with your church.  Whatever it is, write it down!  You can search for family Christmas activities or Christmas bucket list to get some ideas of what other people do. Don't forget to look at the list you made back in January and include those ideas, too.
The Projects for Kids page is for you to list the kid-specific plans you have.  I've made space for the project name, the source (book, magazine, website) and supplies needed.  You should add the supplies to the appropriate shopping list, like the Craft Supply List from this month or the master Shopping List from last month.  I'm hoping that this list will keep me from letting some things fall through the cracks this year.  I always have so many great plans…in my head! Maybe this is the year those plans become reality.
The Holiday Pantry Inventory is the same Pantry Inventory that you can purchase in my Etsy store, but prettied up for Christmas.  Some baking and cooking staples have a long shelf life,  so you can buy them on sale ahead of time.  The trick is to remember what you already have.  Just write down the name of the item and circle the amount that you have.  And here's another tip, non perishables can be stored somewhere other than a kitchen.  Grab a container and find space anywhere you can.  Just make a note right on the inventory sheet so you can find it all again.  If you have food in bags, like brown sugar or chocolate chips, just make sure you store them in a sturdy plastic box with a lid and keep it off the floor.  You wouldn't want any critters to get to them.
All of this month's pages are available to download here: Christmas Planner April
The previous month's pages are here:
January, Part 1
January, Part 2
February
March

Print Friendly
More Mac and Cheese, please!